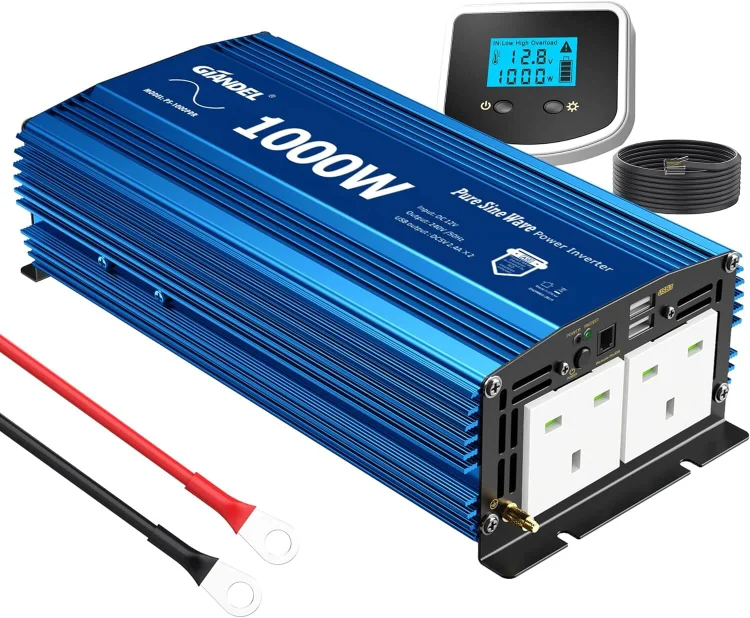 About this item
❊Pure Sine Wave Power Inverter❊ Converts DC 12V to AC 240V, 2 British Standard 3 Pin Sockets provides you up to 1000w pure sine wave power. Coming with dual 2.4A USB Ports, and 4.5m cable long LCD Remote Controller

❊12V Inverter with LCD Remote Controller❊ The remote controller shows input voltage, output wattage, and battery level status. More convenient to know your loads using and control inverter ON/OFF, while applied to RV, Truck, Boat, Car & Emergency

❊Fully Safety Protection❊ Over voltage, Low voltage, Overload, Short circuit, Over heat, polarity reverse protection(fuse)

❊Superior Endurance Performance❊ Durable construction and quality aluminum alloy material stands up to harsh and all season, Integrated cooling fan helps reduce heat. CE, ISO and RoHs approved

❊Package List❊ 1x Pure Sine Wave 1000w Inverter, 2x Battery Cables, 1x LCD Remote Controller, 1x User Manual, 2 Year Warranty, Kindly customer service.

When you charge the 12V Lifepo4 battery by the solar controller,please set the solar charger current less than 14V .
Specifications:
• Power (AC Outlet): 1000W Rated • USB Output: 2xDC 5V2.4A • Output Wave: Pure Sine Wave
• Efficiency: up to 91% • THD≤3%
• Nominal Input Voltage: 9.5-16VDC • Nominal Output Voltage: 240VAC
• No Load Current: 1.3A+-10% • Built-in Fuses: 4*30A
• Battery Cables: one pair with length of 0.6m
• Remote Controller: Cable length 4.5m. More convenient to control the inverter ON/OFF. Showing to you the input voltage, output wattage, battery status, and protection code (when inverter get into protection).
More details and tips:
• Recommended Battery Capacity: 200Ah
• Connect the inverter to a 12V battery with provided standard cables, and plug your AC devices into the inverter.
• Please do not leave the power inverter in the ON position while your car is off.
• Disconnect the positive battery terminal before doing any wiring to the inverter.
• Do not put the inverter into sunlight directly, keep it in cool and dry environment.
• Don't connect inverter with solar panel directly.
• Don't use the inverter with a product that draws a higher wattage the inverter can provide, as this may cause damage to the inverter and product.
Package List:
• 1x 1000W Power Inverter
• 2x 5 AWG Battery Cables, 0.6m
• 1x Remote Controller with 4.5m Cable
• 1x User Manual
Inverter Selection:
1. Rated power consumption: One of the following is shown in the instruction manual of the device or the specification sheet of the product body.
○○W: The power consumption.
○○A: The amperage (A) value multiplied by 240V (voltage) is a reference value for power consumption.
○○VA: Only a reference value for power consumption (W).
2. Maximum power consumption: Depends on the connected device. In the case of inductive loads, the maximum power consumption is 3 to 8 times the rated power dissipation, so power dissipation during startup or operation may exceed the rated output connected to the device.
3. Even devices with the same rated power consumption may not be usable because the maximum power consumption varies by manufacturer and construction. Please contact the manufacturer of the device you are using for the maximum power consumption of the device.
4. Make sure that the maximum power consumption of your device does not exceed the rating of this product.