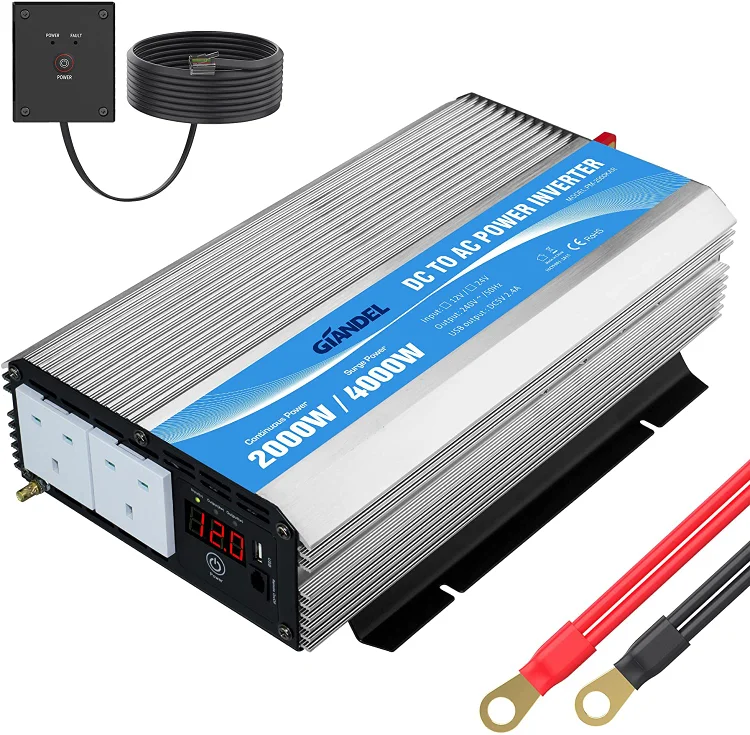 About this item
GIANDEL 2000Watts power inverter provides 2000W continuous power, 4000W peak power, dual AC outlets and 1x2.4A USB port

Widely Applications: the 240v AC outlets provides 2000 watts continuous DC to AC power which can be used fo Emergency, Camping and for Car, Home, RV, Solar System

With a Remote Control: Cable length 4.5m, more convenient to control ON/OFF, idea for RV, Truck, Car, Solar system

Soft start tech and Isolated Input/Output design and Full Safety protections: over voltage, overload, over-current, under-voltage, overheating, short circuit protection

Strong and Durable: Aluminum Alloy Housing provides advanced protection from drops and bumps. Intelligent cooling fan helps reduce heating and prevents shortages. 24-Month Warranty.

When you charge the 12V Lifepo4 battery by the solar controller,please set the solar charger current less than 14V .
About GIANDEL

GIANDEL is a worldwide professional Power Inverter Supplier and has been a TOP1 online inverter brand, devoted to providing quality products with a better PC. A must-have for your road trips, vacations, outdoors, emergency kits and more.

Specifications:

• Power (2 AC Outlets): 2000W Rated, 4000W Peak

• Max Efficiency 90%

• With LED Display

• USB Output: 1xDC 5V/2.4A(max)

• Output wave: Modified Sine Wave

• Nominal Input Voltage: 12VDC

• Nominal Output Voltage: 240VAC

• Internal Fuses: 30A*8

• Battery Cables: One pair with length of 2ft

•Remote Controller: Remote controller with 15ft cable. More convenient to control the inverter ON/OFF

More Details and Tips:

• Recommended Battery Capacity: 400Ah

• Connect the inverter to a 12V battery with the standard cables provided with product, and plug your AC devices into the inverter.

• Please do not leave the power inverter in the ON position while your car is off.

• Disconnect the positive battery terminal before doing any wiring to the inverter.

• Do not put the inverter into sunlight directly, keep it in cool and dry environment.

• Don't use the inverter with a product that draws a higher wattage the inverter can provide, as this may cause damage to the inverter and product.

Package List:

• 1x 2000W Power Inverter

• 2x Battery Cables with 2ft

• 1x 15ft wired Remote Controller

• 1x User Manual

• 8x Shockproof Pads

• 1x Shockproof Pads Manual

Inverter Selection:

1. Rated power consumption: One of the following is shown in the instruction manual of the device or the specification sheet of the product body.

○○W: The power consumption.

○○A: The amperage (A) value multiplied by 240V (voltage) is a reference value for power consumption.

○○VA: Only a reference value for power consumption (W).

2. Maximum power consumption: Depends on the connected device. In the case of inductive loads, the maximum power consumption is 3 to 8 times the rated power dissipation, so power dissipation during startup or operation may exceed the rated output connected to the device.

3. Even devices with the same rated power consumption may not be usable because the maximum power consumption varies by manufacturer and construction. Please contact the manufacturer of the device you are using for the maximum power consumption of the device.

4. Make sure that the maximum power consumption of your device does not exceed the rating of this product.